Secure Grid Filesystem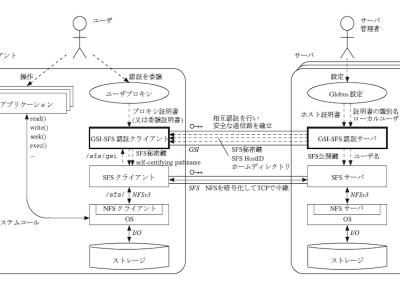 This research was conducted to realize a file system that achieves security and user-convenience on a Grid environment. On a Grid environment, in general, users with different security attributes needs to access data with different access control requirements. In this research, we have developed a secure grid file system named GSI-SFS that achieves the following five requirements: SDI (Single Disk Image), On-demand access, Exclusiveness, data confidentiality, and user-convenience, by leveraging GSI (Grid Security Infrastructure) and SFS (Self-certigying File System).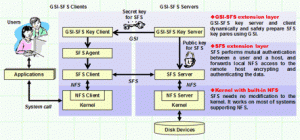 This research was partly supported by MEXT IT program "Construction of supercomputer network" promoted by the Cybermedia Center, Osaka University.
Research achievements(Paper)


Shingo Takeda, Susumu Date, Shinji Shimojo, "GSI – SFS : A Secure Filesystem with Single Sign – on Functionality for the Grid", IPSJ Transactions on Advanced Computing System, Vol. 45, No. 4, pp. 223-233, May 2004.(written in Japanese)

Related graduation thesis


Shingo Takeda, "グリッド認証基盤に適応したファイルアクセスとモニタリングに関する研究", Graduate School of Information Science and Technology Osaka University, Ph.D. dissertation, Jan. 2008.(written in Japanese)
Shingo Takeda, "グリッドにおける安全なデータ共有のための認証と認可手法", Graduate School of Information Science and Technology Osaka University, Master thesis, Feb. 2005. (written in Japanese)
Shingo Takeda, "ユーザ利便性を考慮したセキュアグリッドファイルシステムに関する研究", School of Engineering Osaka University, Bachelor thesis, Feb. 2003. (written in Japanese)