SDN controller for acceleration of MPI reduction operation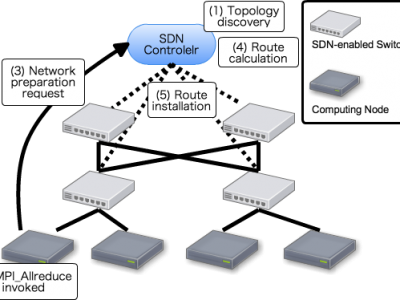 This study aims to high-speed MPI_Allreduce leveraging SDN. MPI (Message Passing Interface), a de facto standard library for distributed and parallel computing, provides a suite of APIs for inter-process communication.
This study is being coducted mainly by the graduate students of the Graduate School of Information Science and Technology, Osaka University, Japan.
Research achievement(paper)


Keichi Takahashi, Dashdavaa Khureltulga, Yasuhiro Watashiba, Yoshiyuki Kido, Susumu Date, Shinji Shimojo, "Performance Evaluation of SDN-enhanced MPI_Allreduce on a Cluster System with Fat-tree Interconnect", The International Conference on High Performance Computing and Simulations (HPCS2014), pp. 784 – 792, Jul. 2014.

Related graduation thesis


Keichi Takahashi, "Design and Implementation of Software Defined Networking Controller for Accelerating Collective Reduction Operation in MPI", Bachelor thesis, School of Engineering Osaka University, Feb. 2013.