High-bandwidth video streaming receiver for tiled display system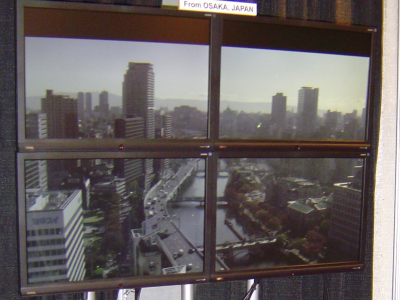 In this study we had promoted research and development of uncompressed high-definition video streaming receiving/displaying system, targeting Scalable Adaptive Graphics Environment (SAGE) -based tiled display system. This study was conducted as a joint collaboration with NTT Network Innovation Lavoratories.

The research achievement and result was showcased at the Cybermedia Center's research booth in SC08 conference/exhibition. In the demonstration at SC we delivered high-quality video from uncompressed HD video transmission system named i-visto from Osaka in Japan to Austin Texas in USA and then displayed it on the tiled display system deployed at the CMC's research booth.
Graduation Thesis


Seiki Kuwabara, "タイルドディスプレイのための非圧縮 HDTV 受信システムの設計と実装", 大阪大学大学院情報科学研究科博士前期課程修士学位論文, Feb. 2009.